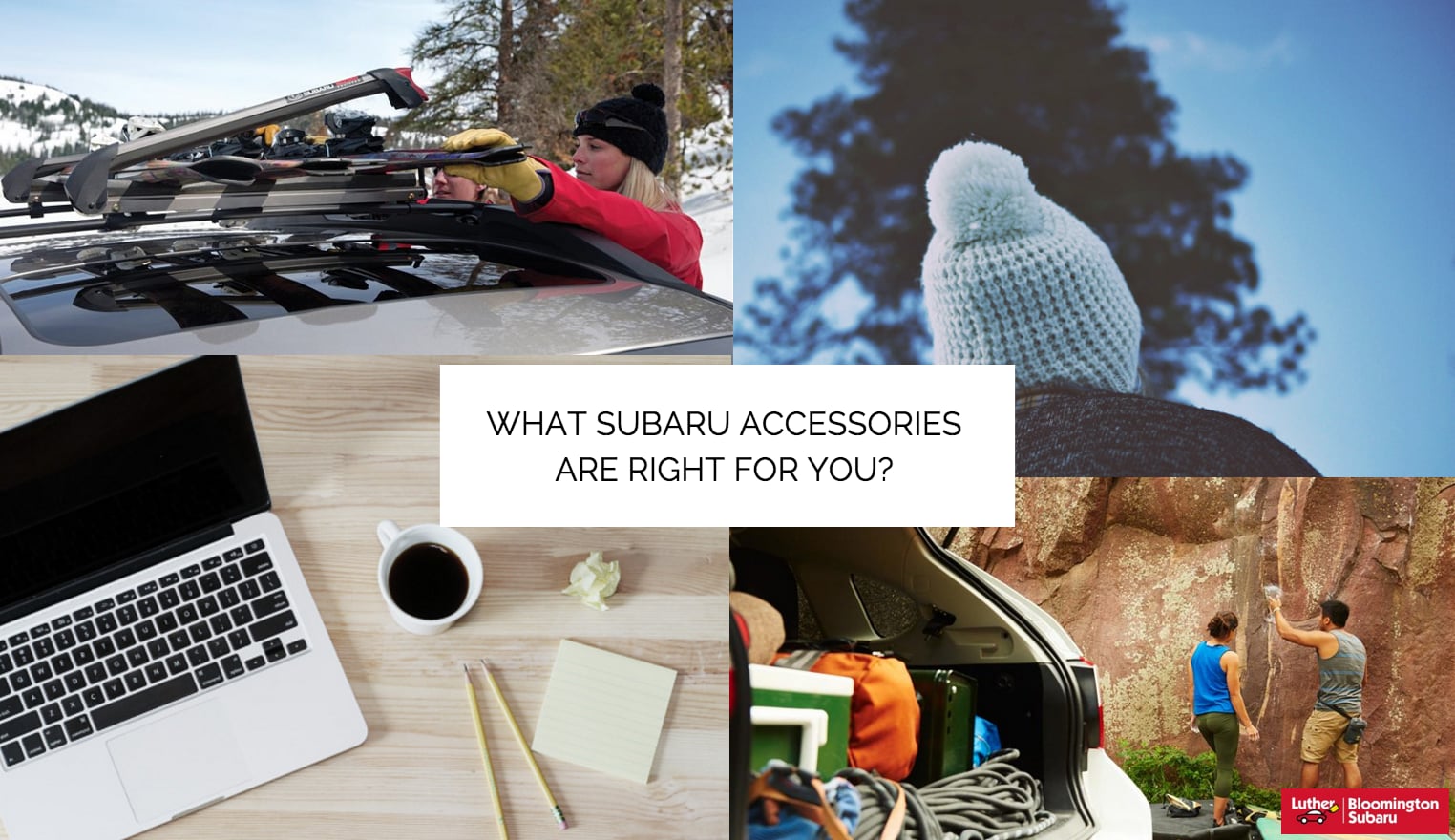 Take a quiz. Which Subaru accessories should you consider?
---
Brought to you by Luther Bloomington Subaru dealership in Bloomington, MN. Find genuine Subaru accessories for sale near Minneapolis. >> Visit our Parts Center.
Which one of these is the most common passenger of your backseat?
a. pet
b. kids
c. friends
d. cargo (groceries, shopping bags, luggage)
Which would you rather spend your day off doing?
a. stay home with a good book or Netflix
b. taking some "me time" away from family
c. outdoor adventure (skiing, snowboarding, biking, kayaking)
d. a day for shopping, running errands and meeting up with friends
What are you most likely to find in your trunk?
a. blankets and an extra jacket
b. sippy cups and single mittens
c. sports equipment or athletic shoes
d. not much. you use the back seat because it is easier to access.
Which of these convenience features is most important to you when you are car shopping?
a. power windows
b. cup holders
c. ground clearance
d. the rear seat folds down to create more cargo space
What kind of driving conditions are you most likely to run into during a typical week?
a. sitting in traffic
b. pedestrian crossing zones
c. off road
d. narrow downtown roads
---
Check out your answers and see which letter you got most.
Mostly A
Make the time you spend in your car more enjoyable. We recommend upgrading your sound system with a Tweeter Kit, and adding a little luxury to your interior with a Leather Shift Knob. If you spend time driving in traffic or on highways commuting to work we also recommend Splash Guards.
Mostly B
Got kids? Whether they are yours or you are taking care of them temporarily, protect the interior of your vehicle with a Rear Cargo Tray and All-Weather Floor Mats. If you spend lots of time around kids, make your busy day a little more convenient with the Remote Engine Starter - Smart Engine Start and Auto Dimming Mirror with Compass and HomeLink®.
Mostly C
Sounds like you are always headed for an adventure. Subaru vehicles are great for off-road conditions. You should consider extra cargo carriers for your specific gear. Subaru has a Ski and Snowboard Carrier, Ski Carrier Lift Kit, Bike Carrier, Kayak Carrier and more. Packing for your next adventure will be easy and convenient.
Mostly D
Do you spend lots of time driving around town or running errands? We recommend a Cargo Organizer and Cargo Net to make your trunk more convenient to use. Since you will be driving in populated and narrow areas, we recommend body side moulding for protection and the Stainless Steel Exhaust Tip and Valve Stem Caps for style.
Here are a few features the team at Luther Bloomington Subaru dealership recommend for all Minnesota Drivers.
Severe Weather Companion

Roadside Emergency Kit

Engine Block Heater

Battery Warmer

Splash Guards

Hood Protector

All-Weather Floor Mats
---
Thanks for reading! Check out our blog.