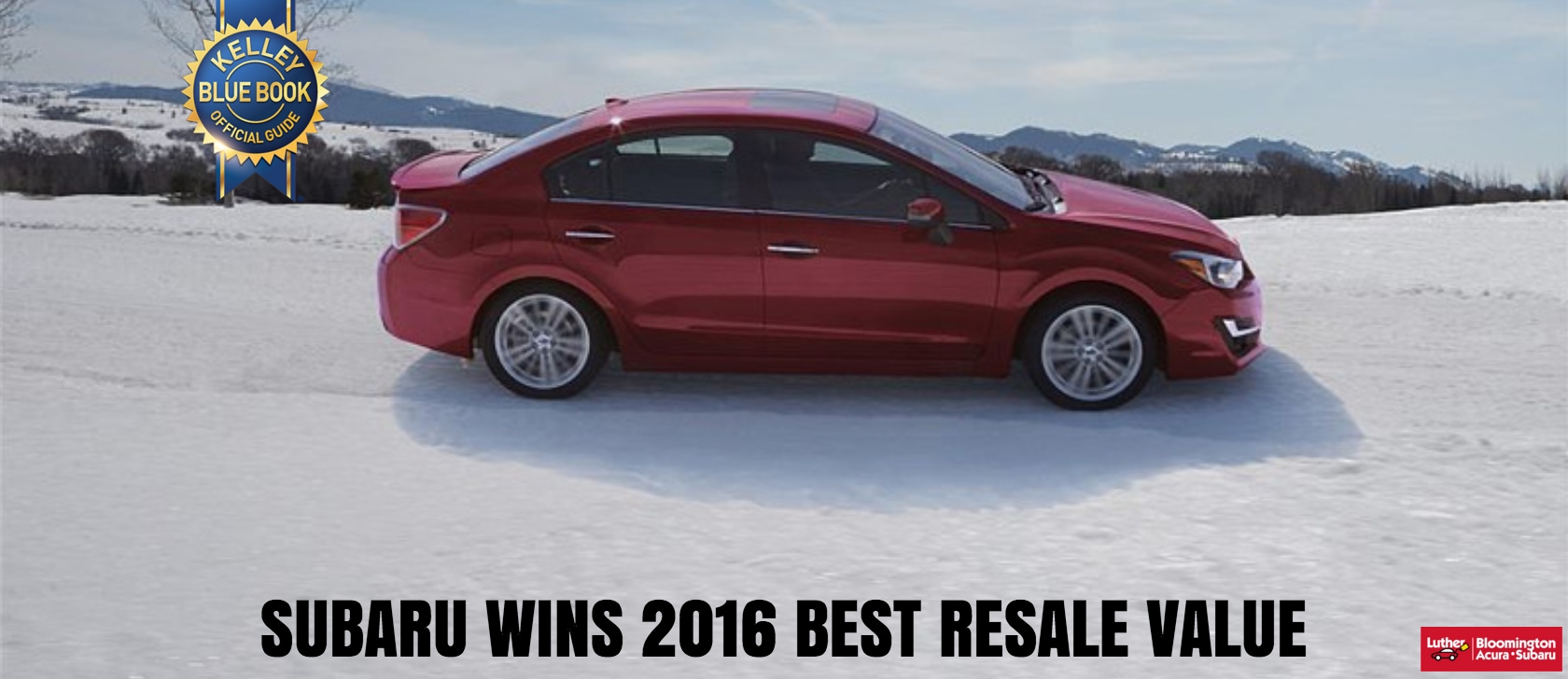 Big news! Subaru was just named 2016 Best Resale Value automotive brand by Kelley Blue Book.
Subaru has won several KBB.com awards over the years. Including the 2015 Best Resale Value award.
---
Find the new
2016 Outback for sale in Minneapolis
at Luther Bloomington Subaru dealership. Click here for directions.
About the 2016 Best Resale Value award
Kelley Blue Book's Best Resale Value award is considered to be one of the best honors an automotive brand can receive. It is given to the brand whose models best retain their value over the first five years after being bought new. KBB.com looks at authentic research data and several factors to determine the winner.

One of the reasons Subaru vehicles have such a high resale value is due to the Subaru Guaranteed Trade-In Program.
Subaru Vehicle Recognitions
For the Best Resale Value awards, Kelley Blue Book also names the top 10 models and a model in 22 vehicle categories. Whatever vehicle you are shopping for, KBB.com has a recommendation based on resale value. Check it out.
4 models from Subaru's 2016 vehicle line up won awards in these categories. The 2016 Subaru WRX was mentioned in the top ten and received the award in the category of Sporty Compact Car. The 2016 Subaru Legacy won the Mid-Size Car category. Lastly, the 2016 Subaru Forester was included in the top 10 Best Resale Value vehicles.
The 2016 Subaru Impreza won the Compact Car category and was mentioned in Subaru's Best Resale Value brand award. KBB.com considers the Impreza the most affordable all-wheel drive vehicle in the country. KBB.com said "More than just accessible, though, Subaru's All-Wheel Drive system is also among the best in the business."
---
Luther Bloomington Subaru proudly serves Minneapolis, Edina, Richfield, Bloomington MN and the surrounding areas. Want to learn more about Subaru and our dealership? Check out our blog.
Browse our online inventory to learn more about the new, CPO and used vehicles we have for sale in Bloomington, MN.
Questions or comments? Contact our team by using our convenient, online Make an Inquiry tool. You can also call us at 888-737-9891.
Thanks for reading!