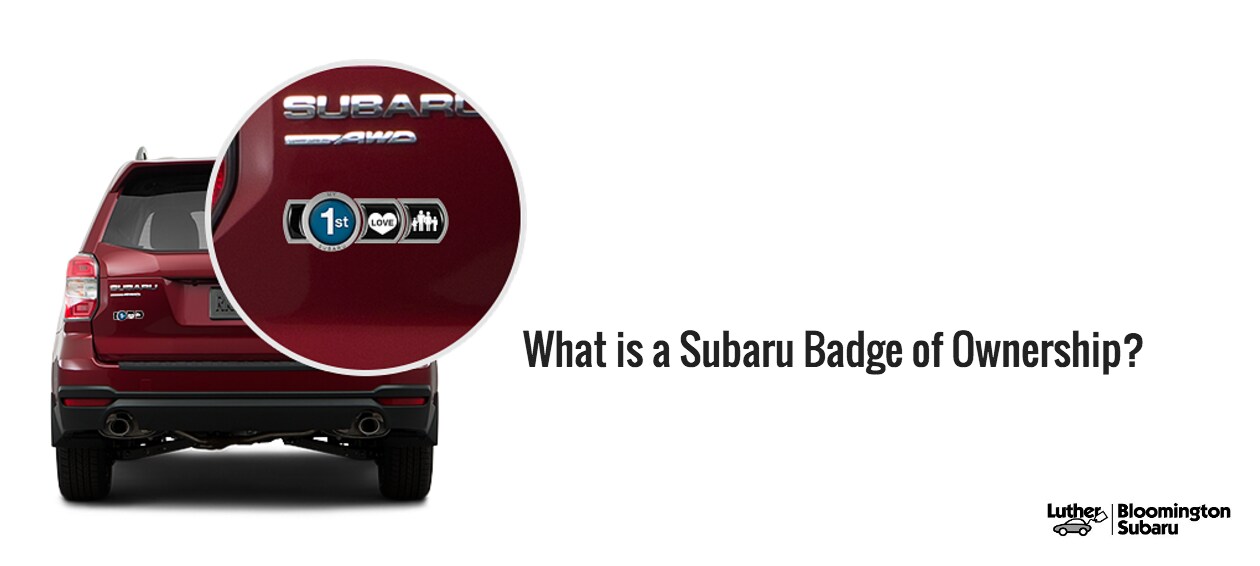 Have you ever seen this badge on a Subaru and wondered what it means? Subaru drivers everywhere are showing off their interest and hobbies with Subaru Badge of Ownership stickers. These stickers represent loyalty numbers and each icon represents an interest.
Get a Subaru Badge of Ownership for your Subaru! Click here to learn how you can order one. Shopping for a new Subaru? Check out a 2016 Forester for sale in Minneapolis, MN at Luther Bloomington Subaru dealership. >> View our inventory.
1. Loyalty Numbers: The circle that begins your Badge of Ownership tells how many Subaru vehicles you have owned. For example: "My 1st Subaru". This is Subaru's gift to you as a 'thank you' for choosing Subaru.
2. Lifestyle Icons: There is no limit to the number of Lifestyle Icons you can add you your Subaru Badge of Ownership. Popular stickers include Outdoor Sports, Animals, Love, Family and Camping. New stickers include Monarch, Bird Watching and Hiking. More coming soon! There are 37 Lifestyle Icons and each one represents an interest, activity or hobby. >> Click here to see a full list.
3. Arrange: Once you have chosen your Lifestyle Icons, arrange them in any order you would like. Each badge of ownership has adhesive an backing that makes it easy to apply to the exterior of your Subaru.
Why?
The Subaru Badge of Ownership is not only Subaru's way of saying 'thank you' to Subaru drivers, it also allows drivers to display their interests and hobbies.
---
Luther Bloomington Subaru dealer proudly serves Minneapolis, Edina, Richfield, Burnsville, Bloomington, Brooklyn Park, Eden Prairie and the surrounding Minnesota areas.
Get updates on our inventory by following us on Social Media.
Facebook | Twitter | Instagram | Pinterest | Google+
Browse our Online Inventory.