The 2021 Subaru Love Promise Community Commitment Award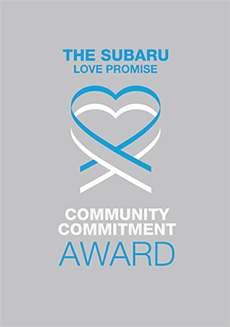 We've been nationally recognized for our dedication to our community and the Subaru Love Promise.
We're honored to receive the 2021 Subaru Love Promise Community Commitment Award. This award nationally recognizes Subaru retailers who are making the world a better place while demonstrating an outstanding commitment to supporting passions and causes in local communities. These efforts are focused in important areas such as the environment, community, health, education, and pets.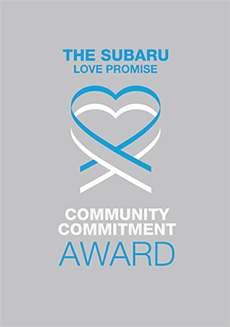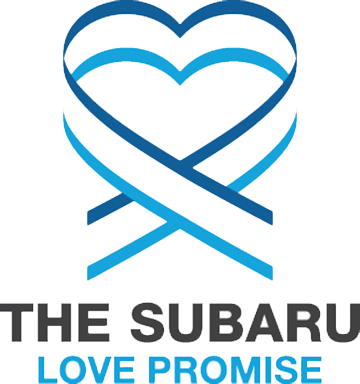 What is the Subaru Love Promise?
Subaru and our retailers believe in making the world a better place and the Subaru Love Promise is our vision of respecting all people. This is our commitment to show love and respect to our customers and to work to make a positive impact in the world.
How is Bloomington Subaru dedicated locally to the Love Promise?
Our Love Promise can be seen in various partnerships with local charities and non-profits. We're grateful for the opportunity, not only to be a part of our community, but to serve it as well.
Love Promise Stories from Bloomington Subaru
Subaru and Bloomington Subaru believe in making a positive impact on the communities in which we live and work. We uphold that belief through our Love Promise Community Commitment. Every month, we select inspiring stories from customers and partners from around our area who strive to support our collective commitment and feature them here
Continued Support for North Star Marine Veterans - Katie M
Bloomington Subaru is excited and proud to continue their support of North Star Marine Veterans. This year we were proud to be able to donate $23,283 to a great cause, and our hometown charity for the Subaru Share the Love event. The non profit helps provide funds for MN Veterans Homes, MCJROTC, and various Veterans needs throughout the year. Our General Manager, Charlie Rassouli and Sales Manager Noah Joseph, we proud to present them with the check!
---
161 Pets Find Their Forever Home! - Katie M
This year, Bloomington Subaru partnered with Minnesota Animal Rescue & Services (MARS) for Subaru Loves Pets Month. MARS vaccinates, microchips, spays/neuters, and gives the pets the time they need to adjust, before adopting them to their forever homes. No matter the breed or age of the pet, they believe that every animal can find a perfect home. In October 2020, MARS was able to place 161 pets with their forever families. Both MARS and Bloomington Subaru understand that good things happen when the community unites!
---
Making a Holiday brighter - Katie M
Every year, Bloomington Subaru partners with Toys for Tots and is an official Drop off Location. We always look forward to giving back throughout the year, but it holds a special importance to us during the holidays. We are so thankful that we can help make a child's holiday a little brighter, even if it is just a toy to some. Throughout the store, we collected new, unwrapped toys, with both customers and employees donating to the cause. This year, because of COVID-19, after collecting toys for the month of December, the Service department loaded the 4 full boxes of Toys into a festive Red Subaru and brought the toys to the local headquarters. 2020 topped 2019 in terms of toy donations, and plan to top in for the 2021 season.
---
Blankets to help Homeless Youth - Katie M
In recognition of Homeless Youth Awareness Month, and to kick off Subaru Share the Love, Bloomington Subaru donated 80 new, all weather blankets to Hope Street Shelter for Young Adults. The Shelter located in Minneapolis, offers support to young adults ages 18-22. Hope Street Shelter provides basic needs- shelter, food, and laundry to at risk youth. The average stay at Hope Street is 30 days, and as the weather in Minnesota gets colder, we understand the importance of a warm blanket of your own. We were happy to support them, and packed a Subaru full of blankets to Hope Street Shelter.
---
Sustainable Options at Bloomington Subaru - Bloomington S
As a store Bloomington Subaru is committed to keeping our planet healthy and believe that little steps can make a huge difference. This year, we phased out the use of Styrofoam cups and implemented a healthier option for our plant. At our coffee bar we now have compostable hot & cold cups, lids, and sleeves. Along with our commitment to Terracycle, the recycling of snack wrappers, coffee and drinkware, Bloomington Subaru's goal is to limit our waste. We are proud to have taken our part of the 8 million metric tons of plastic that enters the ocean year and switch to a sustainable option.
---
#SubaruLovesToCare with LLS + Frauenshuh - Celeste L
This was the third year in a row that Bloomington Subaru, Subaru of America and The Leukemia & Lymphoma Society (LLS) came together to spread love, hope, and warmth to cancer patients and their families across the country. On Thursday, June 28, 2018, as part of the national Subaru Loves to Care program, Bloomington Subaru and The Leukemia & Lymphoma Society delivered blankets, cards of hope, and arts and crafts kits to patients at Frauenshuh Cancer Center. Noah Joseph, as well as several employees of the Bloomington Dealership, came to represent Subaru. One of the employees is a pediatric leukemia survivor, which made the delivery especially moving to Bloomington Subaru. They lit up the room when they brought in the gifts and brightened everyone's day with their positive attitudes and smiles. Several patients were available to accept the blankets and expressed nothing but gratitude for the support and gesture of warmth. This program has had a huge impact on communities and their support continues to be a source of inspiration for patients and families. Thank you, Bloomington Subaru!
---
Subaru and NWF Love the Earth! - Melanie P
At Great River School we love bugs and bees...and fruit and veggies! We added the native plants for pollinators so generously donated to us by Bloomington Subaru to the edges of our existing vegetable garden to give some food to the insects while they also help pollinate our food! The garden will come alive with butterflies and bees all summer and will greet the students when they return at the end of the summer. Thanks Subaru and National Wildlife Federation!
---
Partnering with LLS + Frauenshuh for 2nd Year - Shannon B
For the second year in a row, Bloomington Subaru, Subaru of America and The Leukemia & Lymphoma Society (LLS) are spreading love, hope and warmth to cancer patients and their families in communities across the country. This June, customers visiting Bloomington Subaru were given the chance to write personalized messages of hope to patients in their local community. Those care cards were then handed out alongside a blanket to provide comfort and warmth to patients during their cancer journey.On June 20, 2017 Noah Joseph and Chad Conti of Bloomington Subaru joined LLS staff at Frauenshuh Cancer Center in St. Louis Park to deliver blankets, care cards, and craft kits to brighten the spirits of their blood cancer patients. This event was especially touching for Bloomington Subaru because one of their very own employees, Chad, is a pediatric leukemia survivor himself. At the age of three, Chad was diagnosed with acute lymphoblastic leukemia and endured three long years of treatment. Now at age 34 he's cancer free and was excited to give back during Subaru Loves to Care month.That day, Chad was even lucky enough to hand deliver one of the blankets to a newly diagnosed patient while he received chemotherapy. Chad said, "I am incredibly thankful for companies like Subaru who give children and adults alike the opportunity to live a full life by giving of their time and donations to make things like this happen."
---
Luther Subaru delivers blankets to Frauenshuh - Shannon B
On June 28, 2016 LLS Ambassador Pat Harwood accepted 60 blankets donated by Luther Subaru on behalf of cancer patients currently being treated at Frauenshuh Cancer Center -Park Nicollet. Pat knows firsthand the importance of spreading hope to patients fighting cancer. In 1996, Pat was diagnosed with stage three multiple myeloma, an incurable cancer of the plasma cells in the bone marrow. "The prognosis wasn't good & at the time most stats showed I had 3 to 5 years to live," says Pat. After months of treatment, her sister was confirmed as a match for a bone marrow transplant. Unfortunately for Pat, her battle was not over. Ten days out of transplant & still in the hospital, Pat's husband was killed in a car accident. "My family, friends, & the doctors & nursing staff at Park Nicollet helped me through a very difficult time," shares Pat. "Because, I was now the only parent to my son, I knew I had to fight even harder to survive." Her doctor told her to remain hopeful because the research & treatments in the pipeline at that time could make five years last a lifetime. "Due to new studies and thanks to research supported by organizations like LLS, today's blood cancer patients have treatment options that could give them a lifetime," says Pat. She was deeply touched to be able to hand out Luther Subaru's donation, especially when her favorite nurses led her into an infusion room to meet Judy, who was getting her very last chemo that day!
---